Store Feature - Two persimmons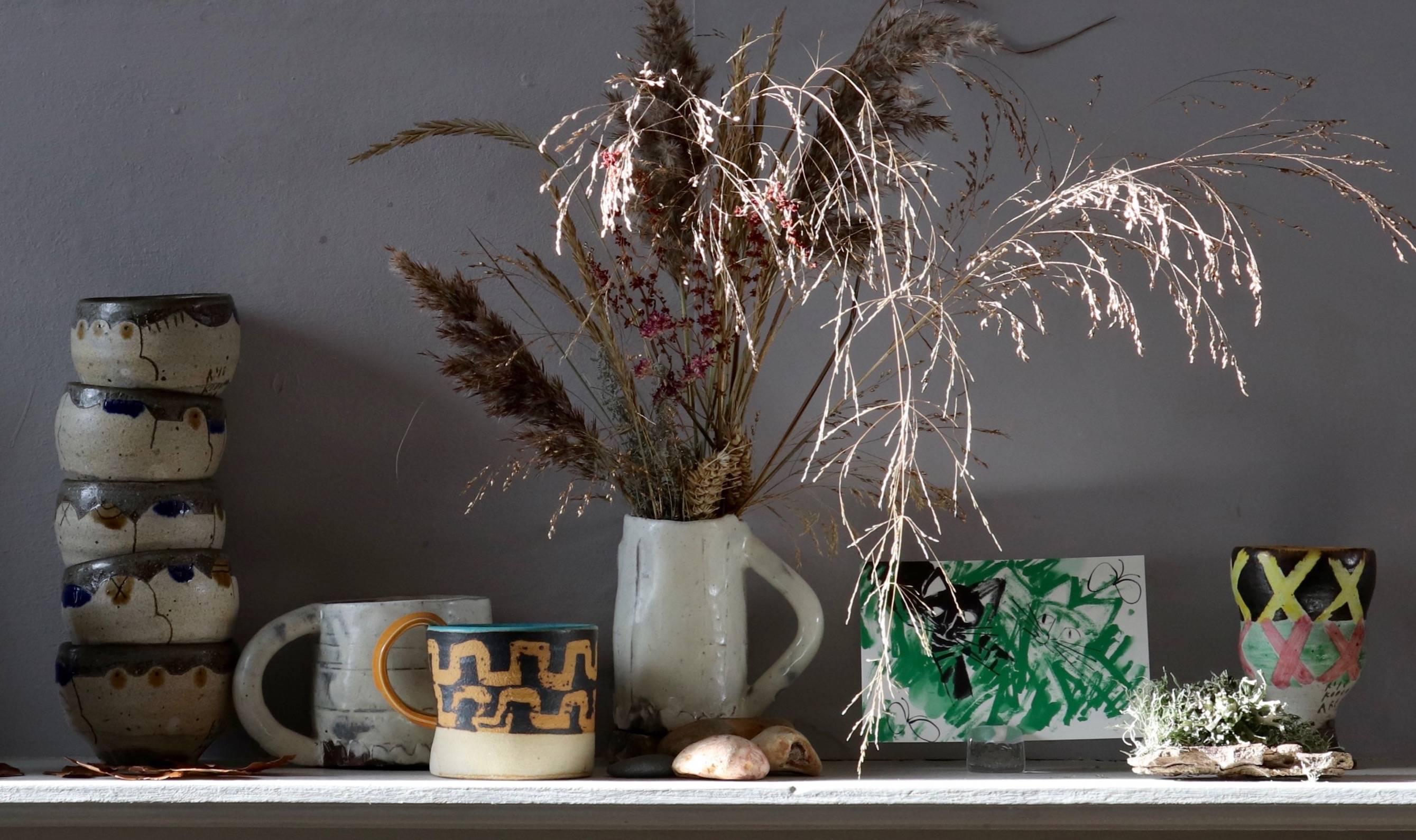 Ceramics available at two persimmons
Two persimmons carries beautiful and functional Japanese crafts, including artwork by Sanae Sugimoto
Founded by Sachiko Smith in 2019, two persimmons is an online gallery based in the UK and Japan with a focus on Japanese crafts and ceramics. A former design journalist, Sachiko stocks her gallery with functional art—objects that marry beauty and utility—made by independent artists.
From Ohara Koichi's beautiful textured pottery to Watanabe Moe's vine coasters based on a traditional weaving technique, Sachiko aims to share the craftsmanship of Japanese artists with a wide audience. In addition to carrying functional ceramics, wood work and fibre products, two persimmons also carries a range of poetic drawings by Sanae Sugimoto, the artist behind our Evening Kingdom puzzle.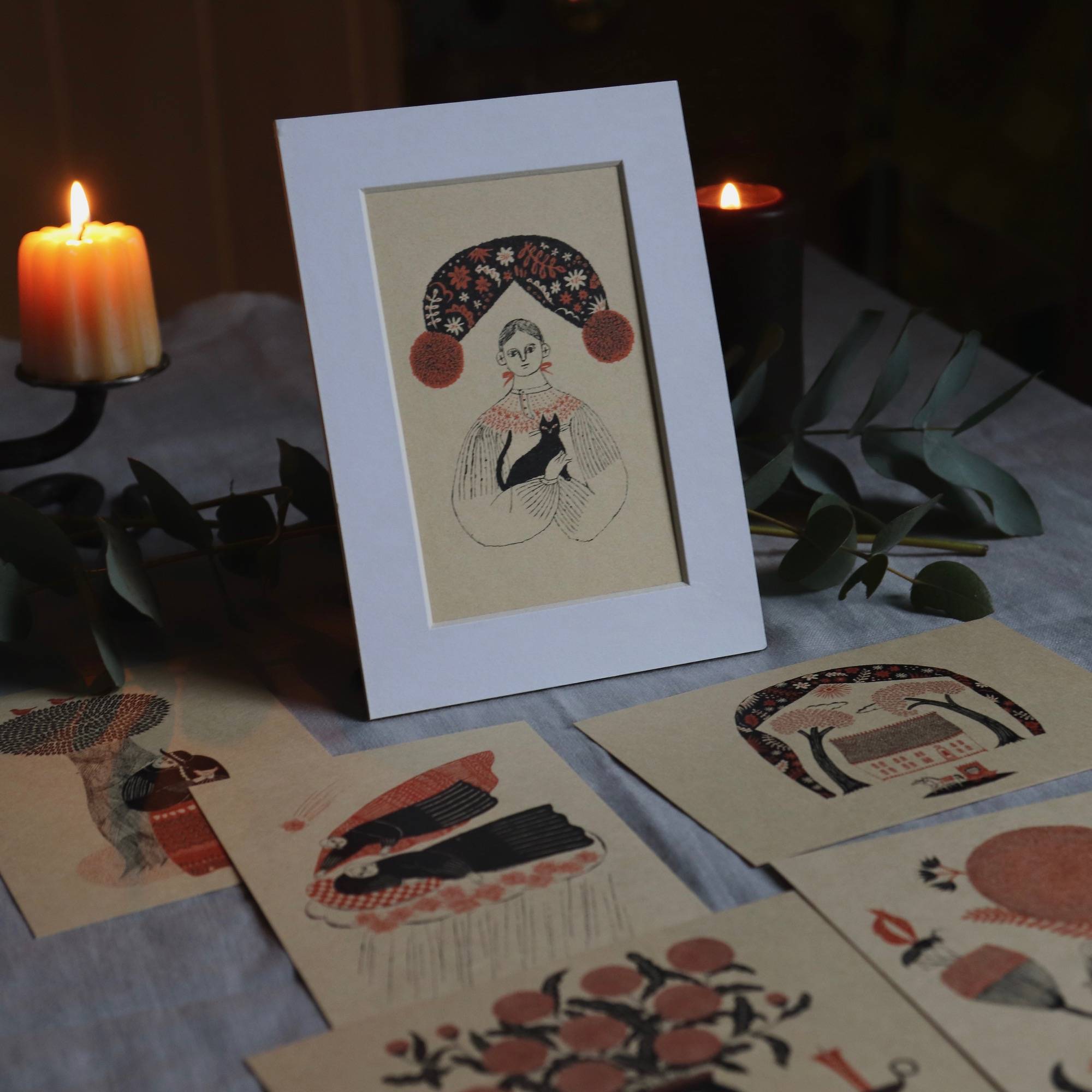 A selection of Sanae Sugimoto prints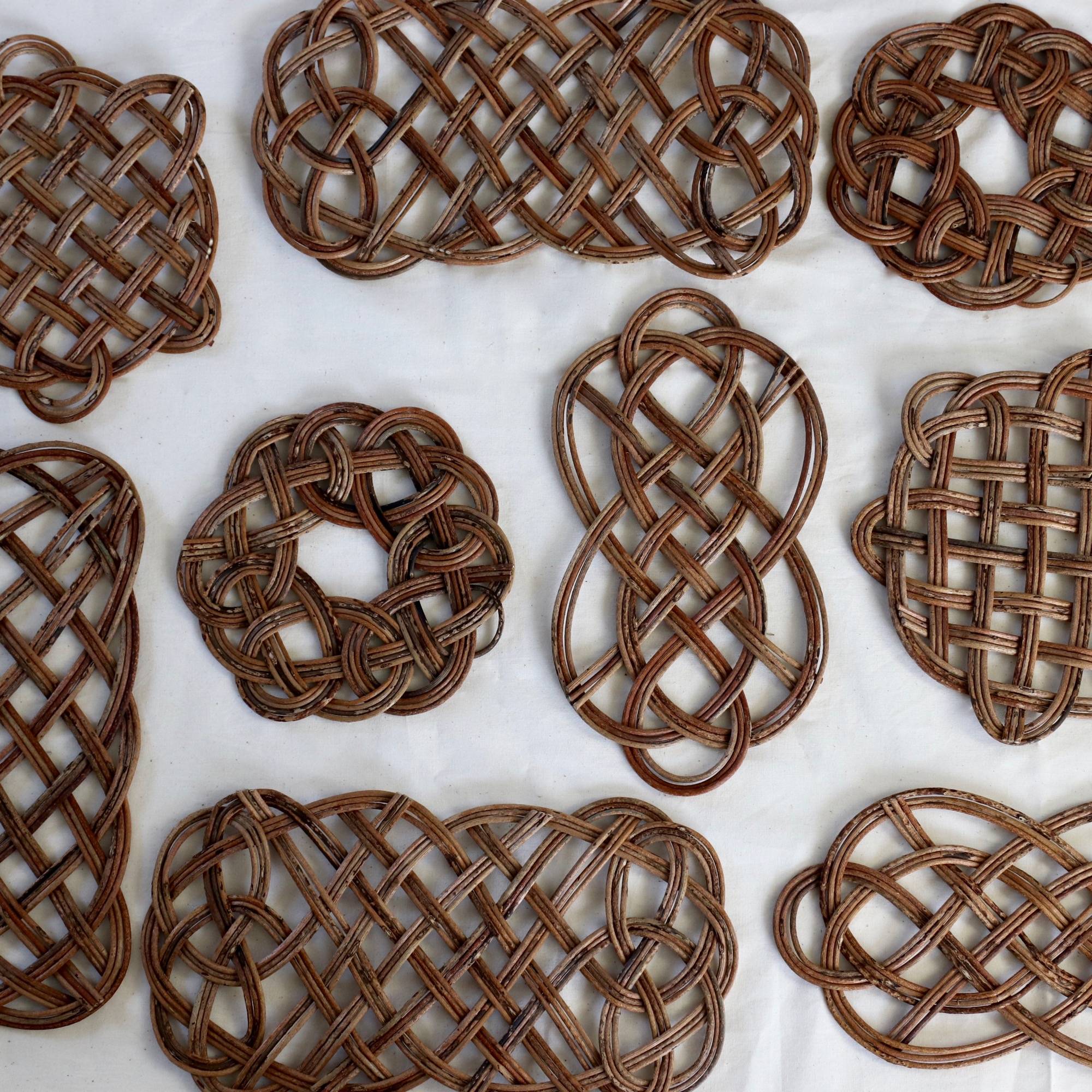 Watanabe Moe's vine coasters
We spoke with Sachiko Smith about which qualities she is drawn to when choosing crafts to represent, her gallery's expansion from the UK to Japan, and the story behind her two persimmons' quaint name.

Why did you decide to launch two persimmons?
The main reason I started two persimmons is that I love all handmade, functional items. If you live abroad, like I do, you might miss the food you have grown up with. In my case, the things I could not live without when I came to the UK were one-of-a-kind tableware and nicely made household items. Also, I felt there was a huge gap in the market for these items, probably everywhere but in Japan. Especially in ceramics, individual designer-makers in the UK generally aspire to exhibit in the white cubes of an art gallery, rather than making functional ware.
Why did you choose the name two persimmons for your store?
The name is meant to be something that is typically Japanese and iconic. Persimmons are strange and exotic fruits in Europe, yet they are so common and familiar in Japan. This gap seemed to mirror the one I saw for the handmade items that I love.
There is another story behind this name: "two persimmons" is actually short for "Villa Two Persimmons"(双柿舎). This is a beautiful villa in the coastal spa city of Atami, near Tokyo, and has been used by many writers as literary retreat. Now owned by Waseda University and open to the public, I encourage anyone to visit the villa if they get the chance.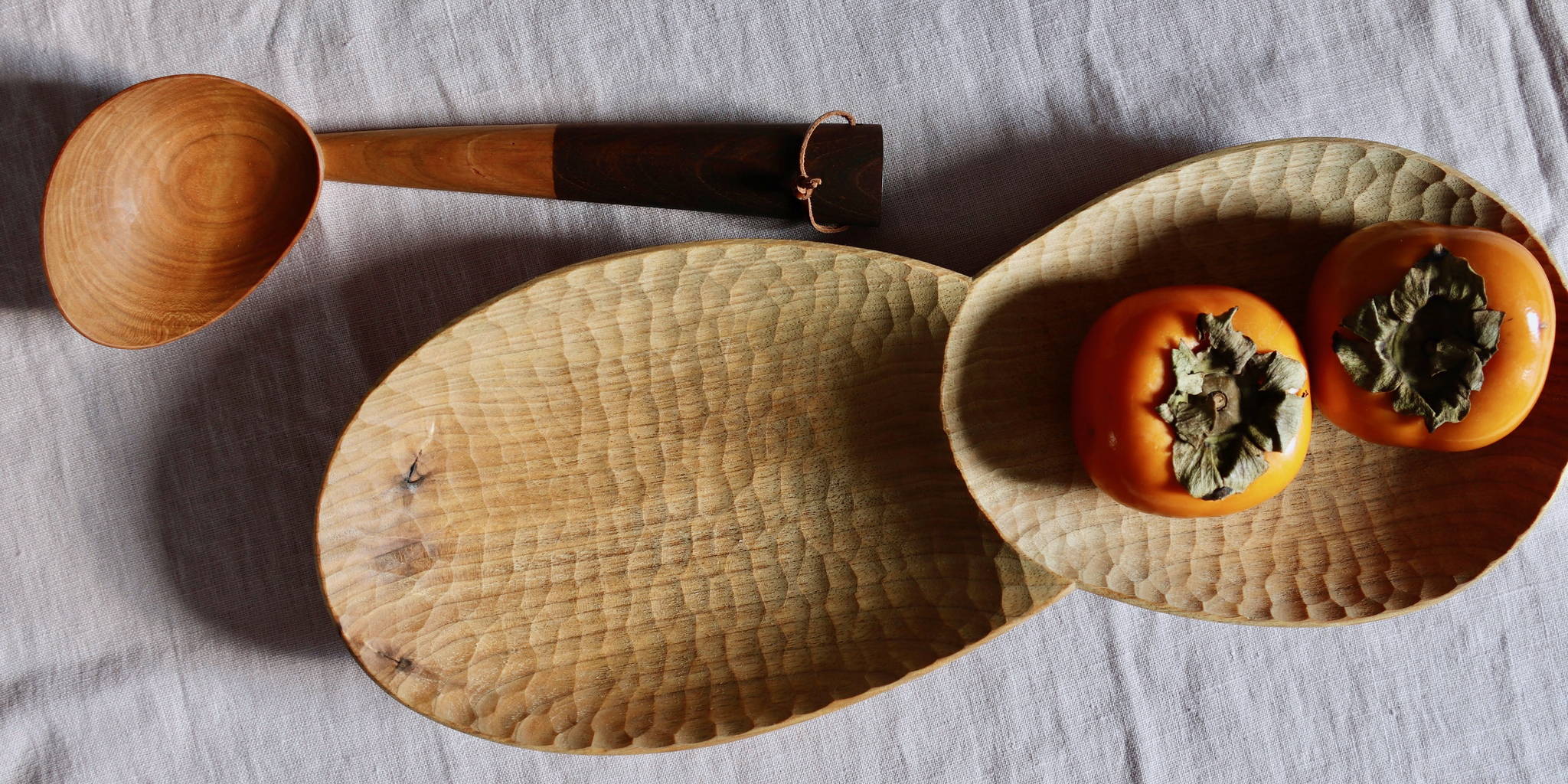 Serving spoon and plates by woodworker Uda Masashi, with two persimmons
two persimmons has two locations, one in Japan and one in the UK. Why did you decide to open the second location in Japan? Are there any differences between the two galleries that reflect their communities?
We started as a UK-based gallery, and are still not really established in Japan. Our plan is to introduce artists from the UK and other European nations to Asian markets, with Japan as the base for this development. There are many talents in Europe and a huge demand for handcrafted items in Japan. As the crafts scene in the world gets closer, I think this is going to be a very exciting project.
You carry a great selection of beautiful and functional handmade objects by Japanese designers, like Takemura Yoshinori's ceramics, Sanae Sugimoto's illustrations, and Kitayama Eita's wooden tableware. How do you choose which products and designers to carry?
Basically, I fell in love with and owned or used these artists' pieces myself. By selecting items this way, I believe our business can reach the right people who might share these values and cherish the same items. For example, Sanae Sugimoto is an artist I have admired for many years. When I finally met her in person, I realized that she had a deep respect for Takemura Yoshinori, a ceramicist we represent. That was a happy coincidence.
For many years I had researched and interviewed creators as a design journalist. Naturally, I tend to choose artists whose works radiate rich backstories, who I want to ask many questions, see the process of making their works and share this with other likeminded people. Probably I am still doing the same thing in a different way.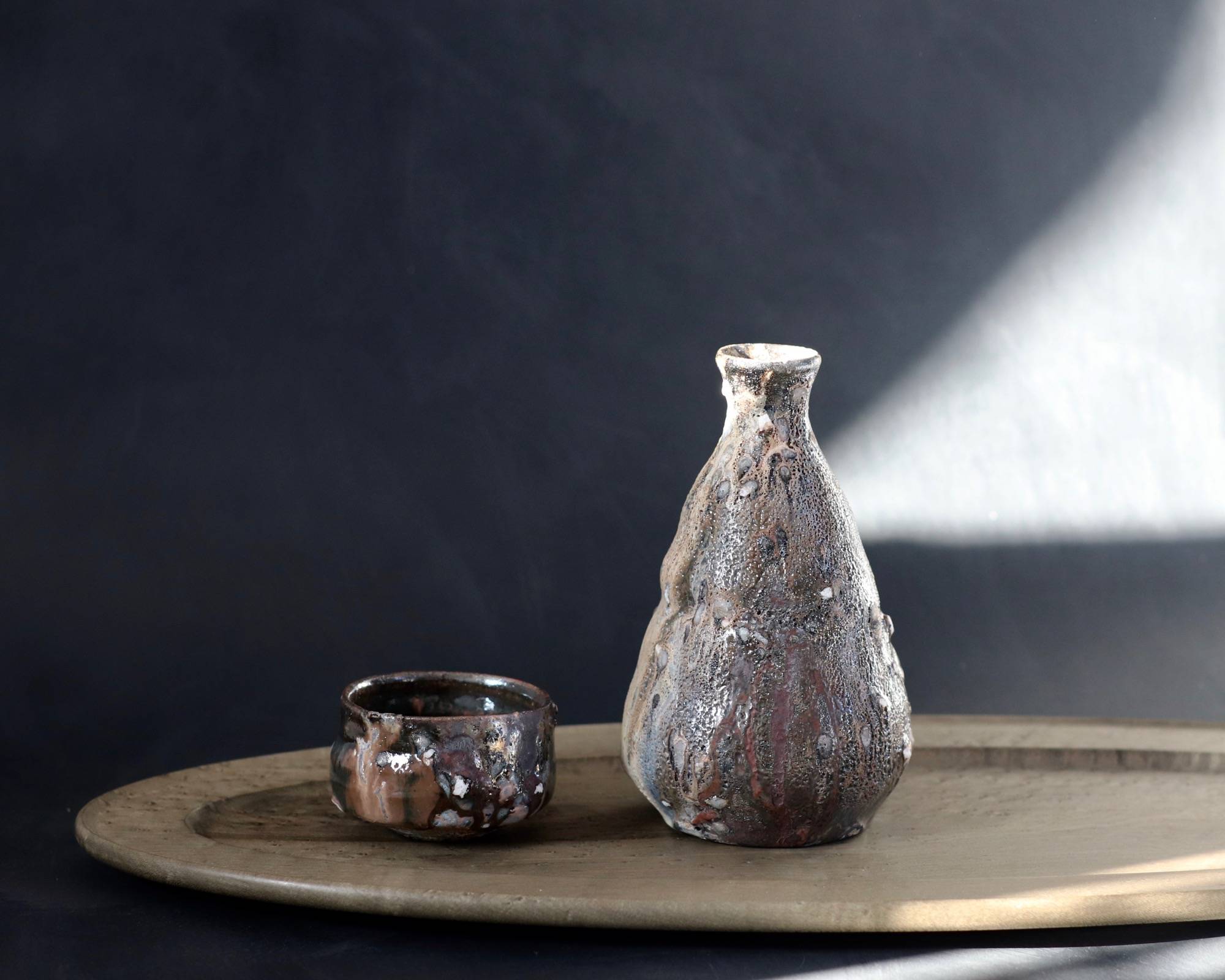 Sake bottle and cup by potter Ohara Koichi and serving board by Kitayama Eita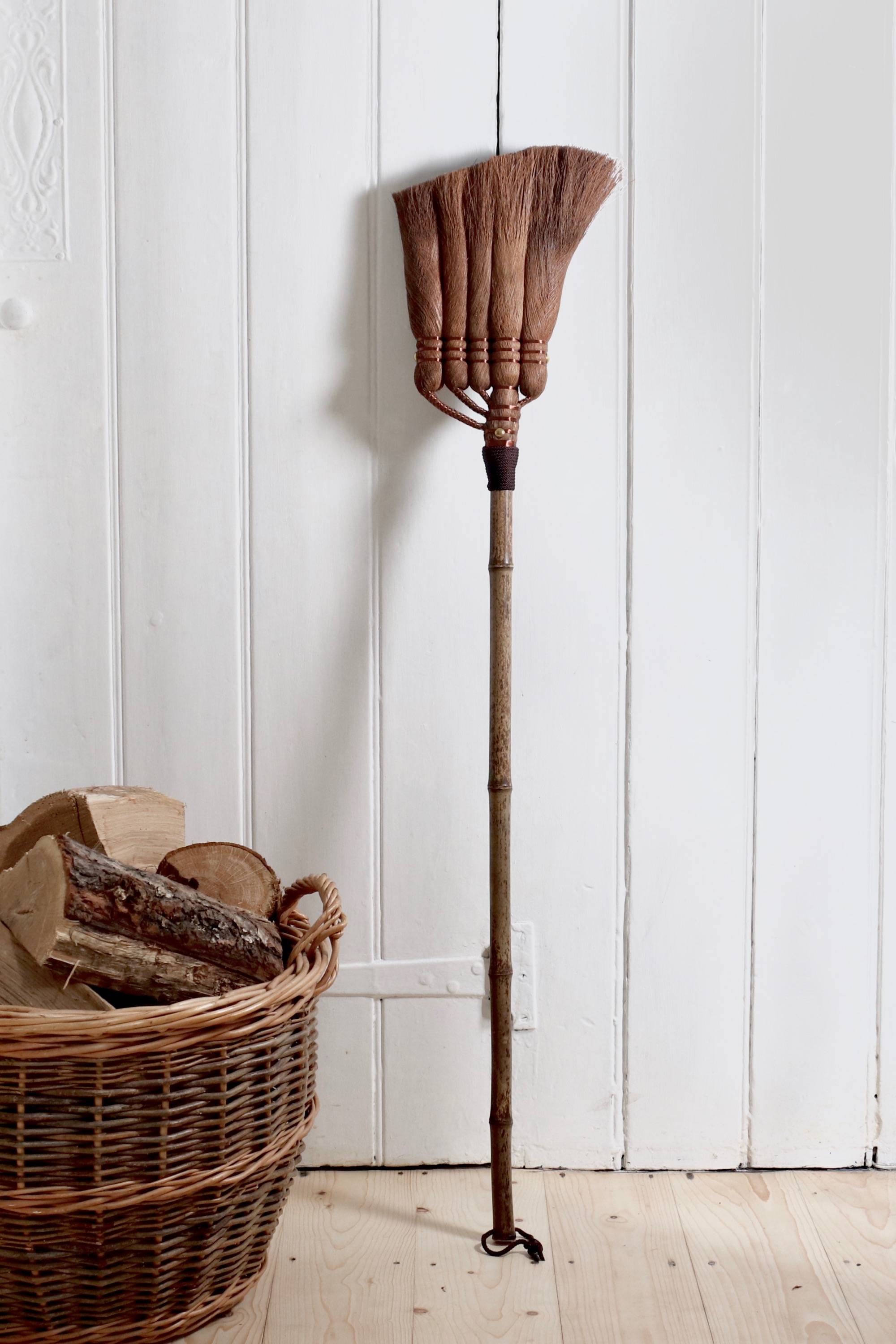 Palm broom by Nakamura Koji
We've noticed that most of the products you carry have a couple things in common: they're created using natural materials, and they often incorporate traditional craft techniques. Are these qualities you specifically look for when choosing your products? If so, why are these qualities important to you?
That is an interesting question, as I did not even realize the items we carry are all from natural materials! Probably it is because I deliberately avoid choosing items with a "design-led" approach. The unique quality of the work is the most important for us. If you see Kitayama Eita's wooden tableware, you will notice his style doesn't look traditionally Japanese. His works are basically a fusion of Japanese and Western aesthetics. Takemura Yoshinori's ceramic pieces, on the other hand, remind us of Scandinavian mid-century modern styles, but he used to be a specialist in "kintsugi", a typically Japanese technique of restoring ceramics. These syncretic developments of crafts are so fascinating, and the pieces are so powerful.
Do you have anything new in the store, or any favourite products, that you think our customers should take a look at?
Puzzle lovers might like our patterned Washi journals and origami. These washi papers are very special, as each one is stencil-dyed by hand. Also, our brooms are very popular among customers in North America. And of course, more Sanae Sugimoto artworks are on the way to us later this year. If you like Sanae's works, you don't want to miss one of our new artists, Ajiro Kosuke. I can't wait to share the news!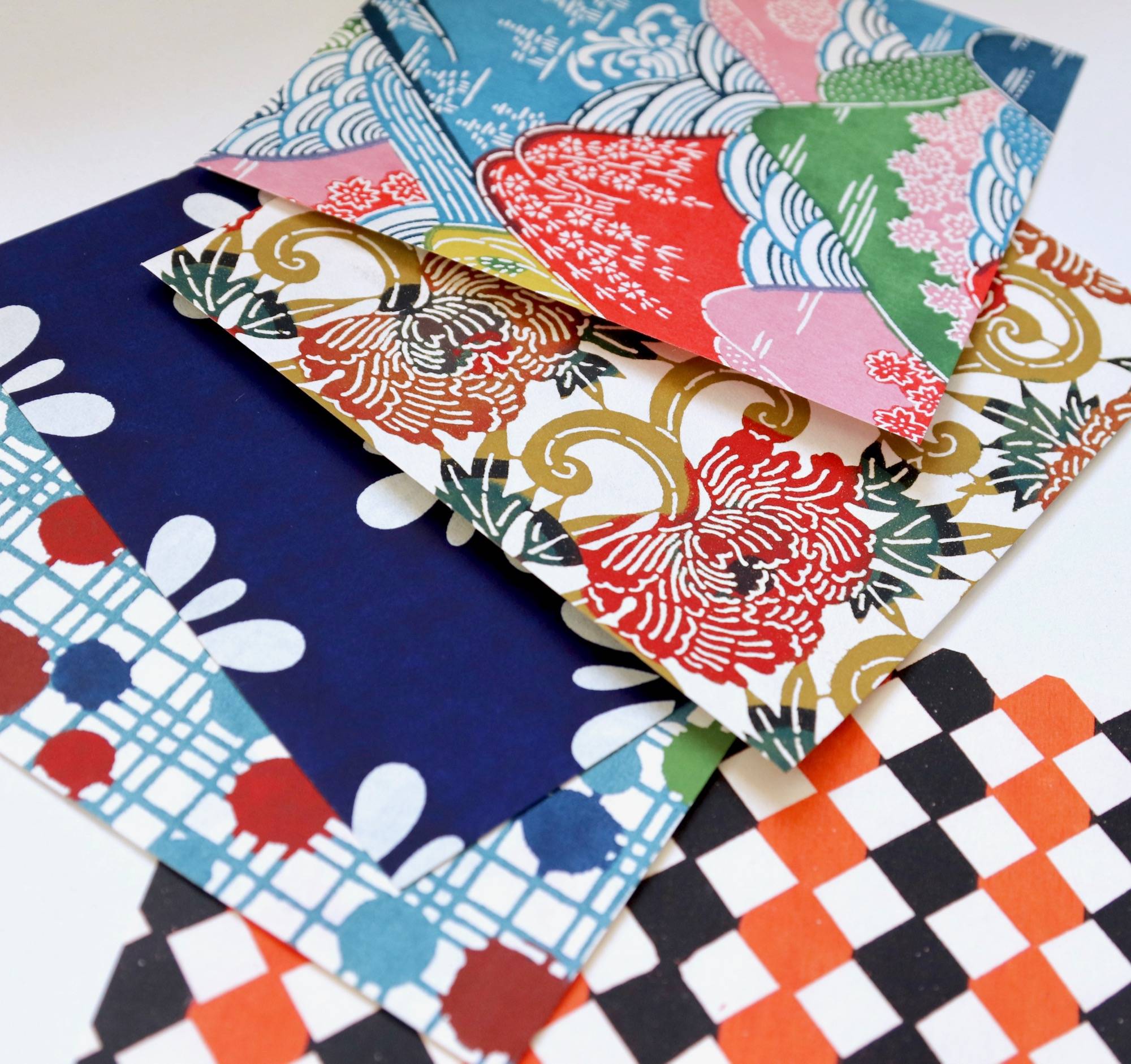 Handcrafted origami paper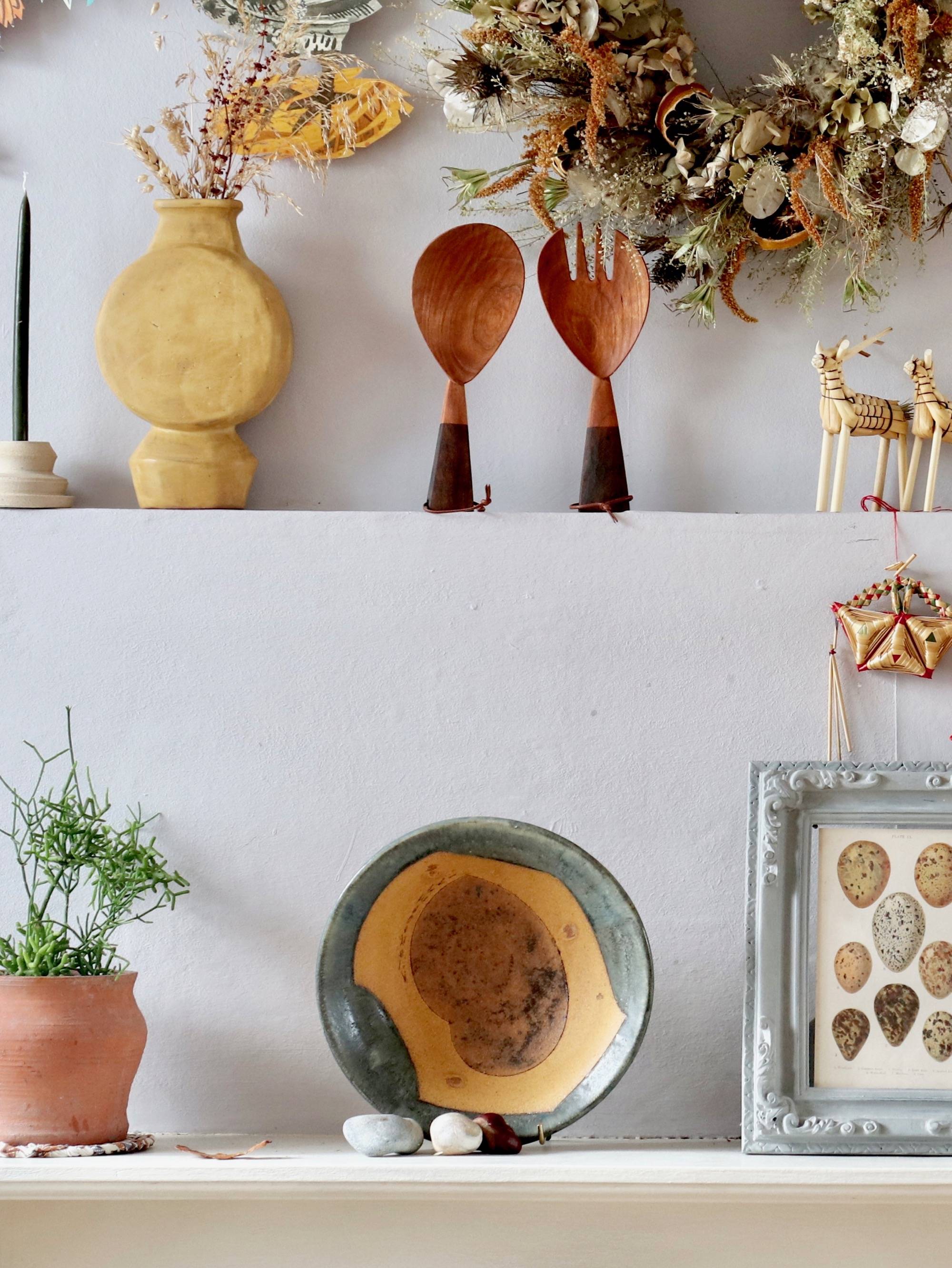 Ceramics, servers and ornaments available at two persimmons
Do you do puzzles yourself? If so, do you have a recent favourite?
I don't think I have done many puzzles. The last time I did any (except for Evening Kingdom) was probably Thomas the Tank Engine and similar ones with my son—and that was pretty difficult! Some years back I had contact with a brilliant designer, Tokolo Asao, and tried his then-new work, Paper Rhombus. It is a clever puzzle with which you can design your own rhombus pattern. The paper engineering works of its maker, Fukunaga Print, are just amazing.
For our customers outside of Japan and the UK, do you ship internationally?
All through this pandemic time, we have been shipping worldwide and we still do. Only the brooms can be a bit tricky because of their length!
If you would like to shop the incredible range of crafts represented by two persimmons, or learn more about the makers and techniques behind these crafts, please visit the two persimmons online gallery here.