Artist Feature - Maura Ambrose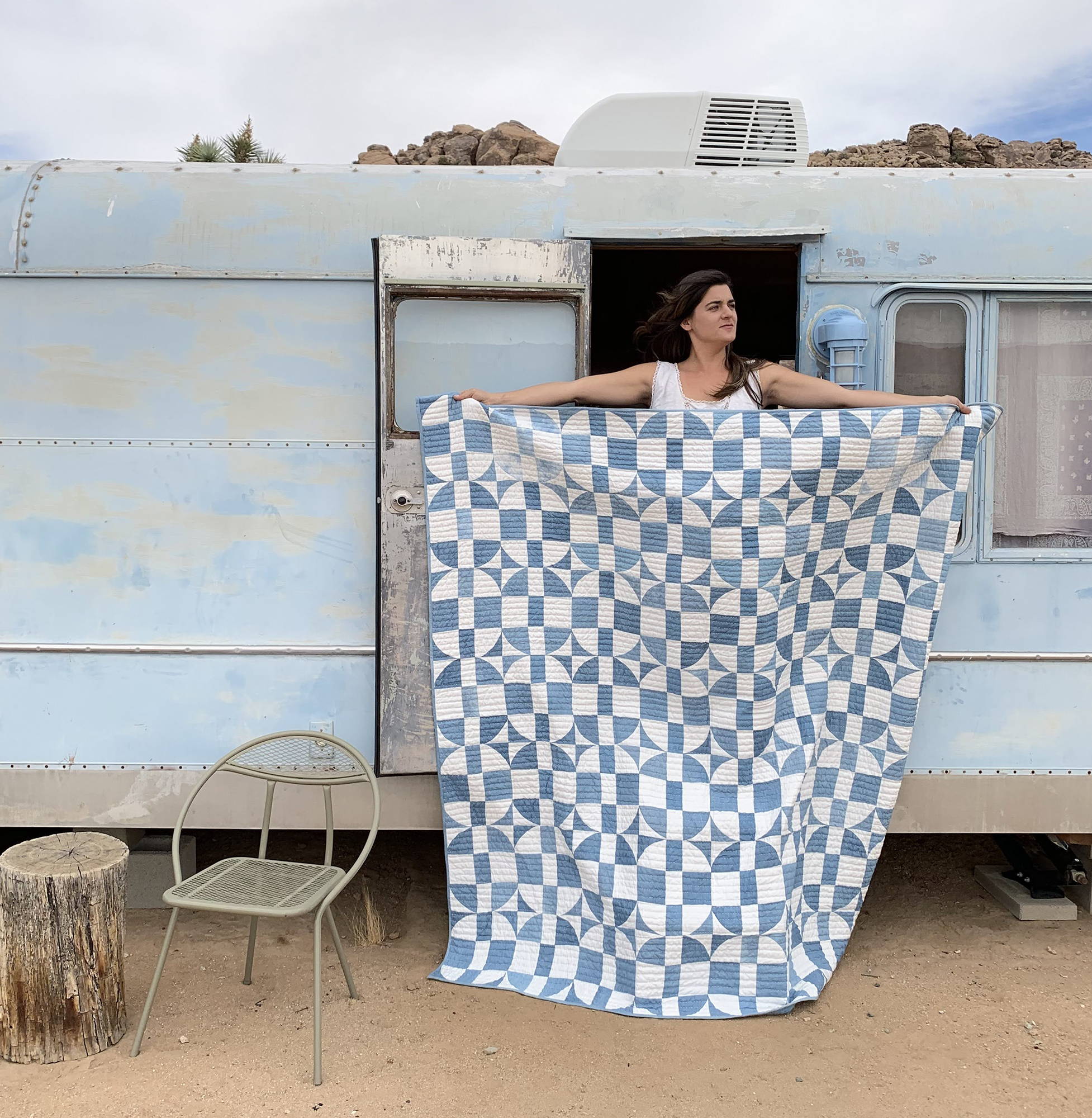 Maura Ambrose of Folk Fibers pictured here with her 'Sky Quilt'.
MAURA AMBROSE IS A QUILTER, NATURAL DYE ARTIST AND THE CREATIVE FORCE BEHIND FOLK FIBERS. SHE IS ALSO OUR FIRST ARTIST COLLABORATOR.
Maura Grace Ambrose is a quilter and natural dye artist in Bastrop, Texas and the creative force behind Folk Fibers. She received a BFA from Savannah College of Art & Design and launched her first collection of naturally dyed, quilts in 2011.
Her distinctive use of colour and appreciation for traditional design result in timeless works of art. She hand-dyes fabric from homegrown and foraged sources, favouring plants native to central Texas. All of Maura's quilts are also hand-stitched, a process that leaves beautiful, tangible marks from the maker's hand on the work.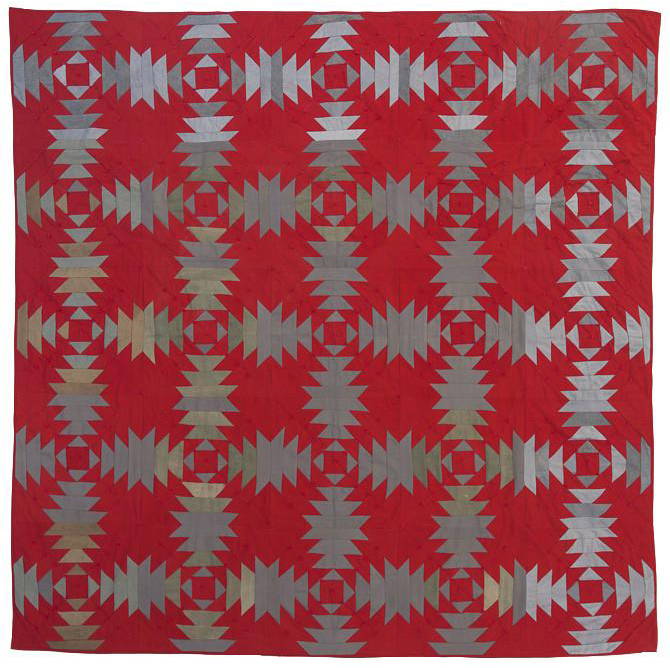 The 'Kentucky Quilt' was inspired by the traditional Pineapple Log Cabin quilt block.
In 2019 we had the pleasure of collaborating with Maura on our very first art-based puzzle, the New York Quilt puzzle. Choosing which piece to use for this puzzle was a joint process between ourselves and Maura. It was important to choose work that would not only lend itself to a puzzle, but would also be reflective of Maura's body of work. The large number of colours in the New York Quilt immediately made it a good choice for a puzzle as it added the variety needed to make the puzzle enjoyable, but also showed the beautiful range of colours that are achievable with natural dyes.
Maura's 'Labyrinth Quilt' features a repeating square design that represents her experiences as a mother and an artist.
We recently reached out to Maura to ask her some questions about her work, how quilts fit into the art world and about our collaboration with her.
What most interested you in collaborating with Four Point Puzzles to turn your work into a jigsaw puzzle?
I was most interested in collaborating with my friend Lindsay. I felt that I was in good hands knowing she understands quilts [Lindsay's background is in textile design, specifically quilting] and shows a great discernment in quality materials. Also how cool to have my work turned into a puzzle! It's nice having an affordable product to offer, since my quilts are very involved and therefore costly.
Are jigsaw puzzles a hobby of yours?
No, but like the rest of the world I'm now looking for projects to do at home that the family can all enjoy together. My daughter, who is six and a half, really wants to participate so lately we're enjoying 250–500 piece puzzles.
Quilting has a long and rich history; how do you draw upon that history and how does your work fit into it?
Historic quilts are so inspiring. I'm attached to the timeless classic aesthetics that are just as appealing today as they were 100 years ago. One way I draw upon that is by working mostly in solid colours. I also spend time researching and studying historic quilts, it's an obsession really. The authenticity of work made in an era before the internet, before TV, when a maker was exploring their ideas and materials with pure intentions: for pleasure, warmth, beauty — the work then speaks for itself!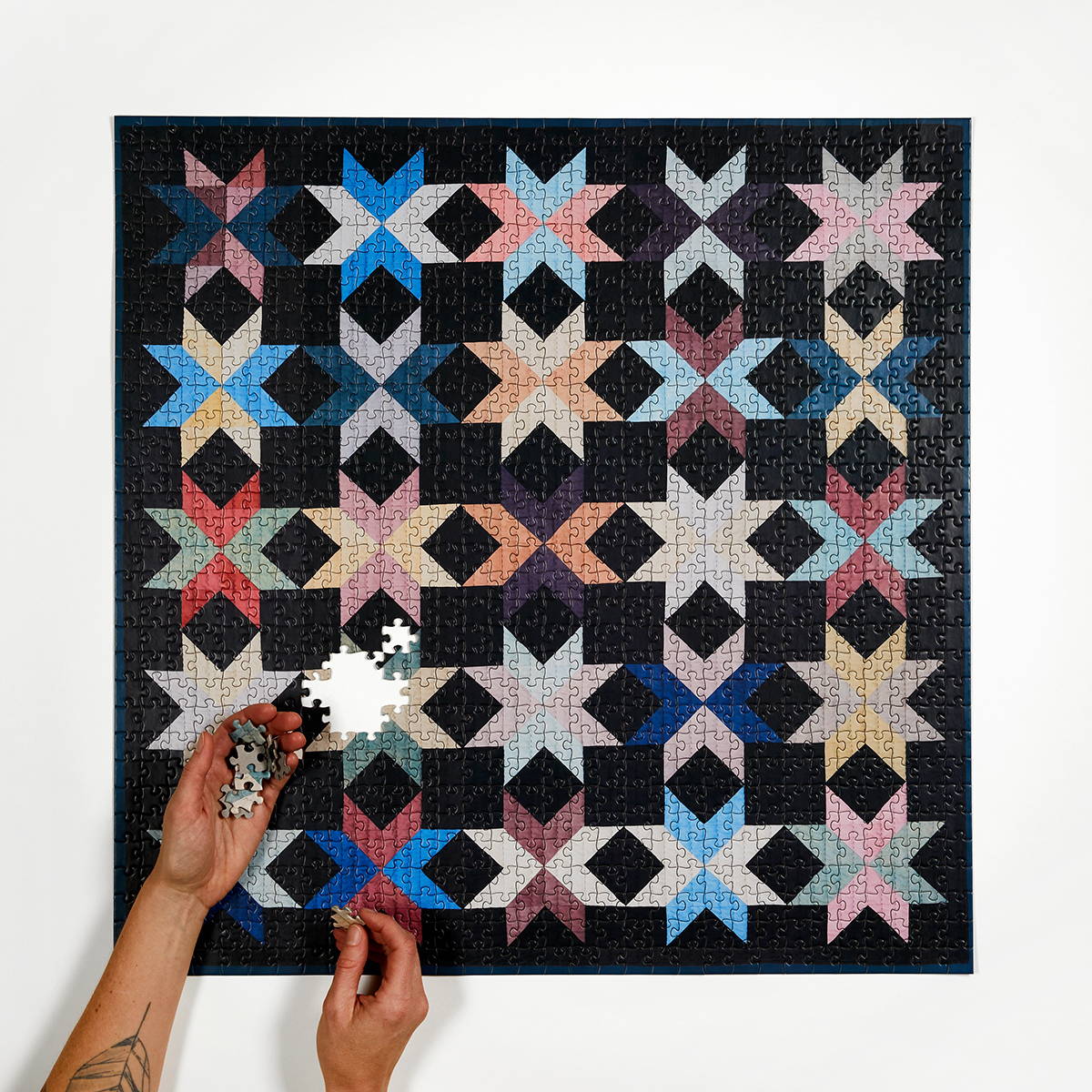 Our New York Quilt puzzle is available in our online shop here.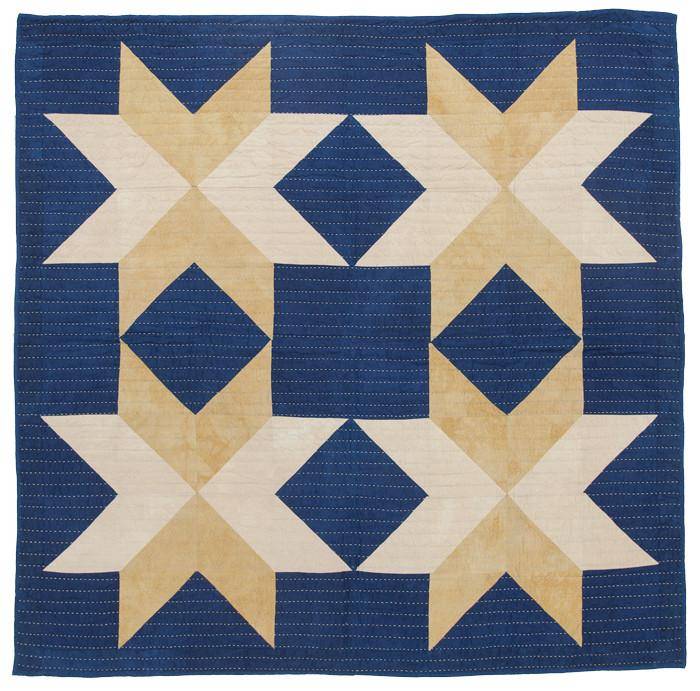 The colours in Maura's 'Dark Star Quilt' are achieved with Osage Orange and Indigo.
Textiles are typically underrepresented in the art world; do you feel that this is something that affects your practice?
They are and it can be troubling, especially when pricing and selling textile work. I feel that there are parallels with making one-of-a-kind quilts and paintings, but paintings and quilts are priced and valued differently. In some cases quilts take longer to make than paintings, and that can be difficult to reconcile. When making a quilt I try not think about the money, and instead I choose to focus on things that are calling me to connect with my creativity. The act of expressing myself is a joyful and priceless gift to myself. When I make something that feels like a masterpiece, I've learned to ask for what it is worth.
Who are some other artists that inspire you?
Other artists that inspire me are friends who are also finding the balance between work and life. I'm especially fond of the Gees Bend quilters; back in 2006 when I first discovered their quilts, it lit a spark in me and I began seeing and appreciating quilts as works of art.
How do you connect to your audience?
I connect with Instagram, emails, phone calls, interviews and videos [Maura has a series of video-based workshops available on her website], but my favourite is connecting in person. Be it workshops or just a cup of tea, nothing compares to that experience of listening and sharing ideas as they unfold in the warmth and presence of each other.
You can read more about Maura and her work on her website here or connect with her through Instagram here.