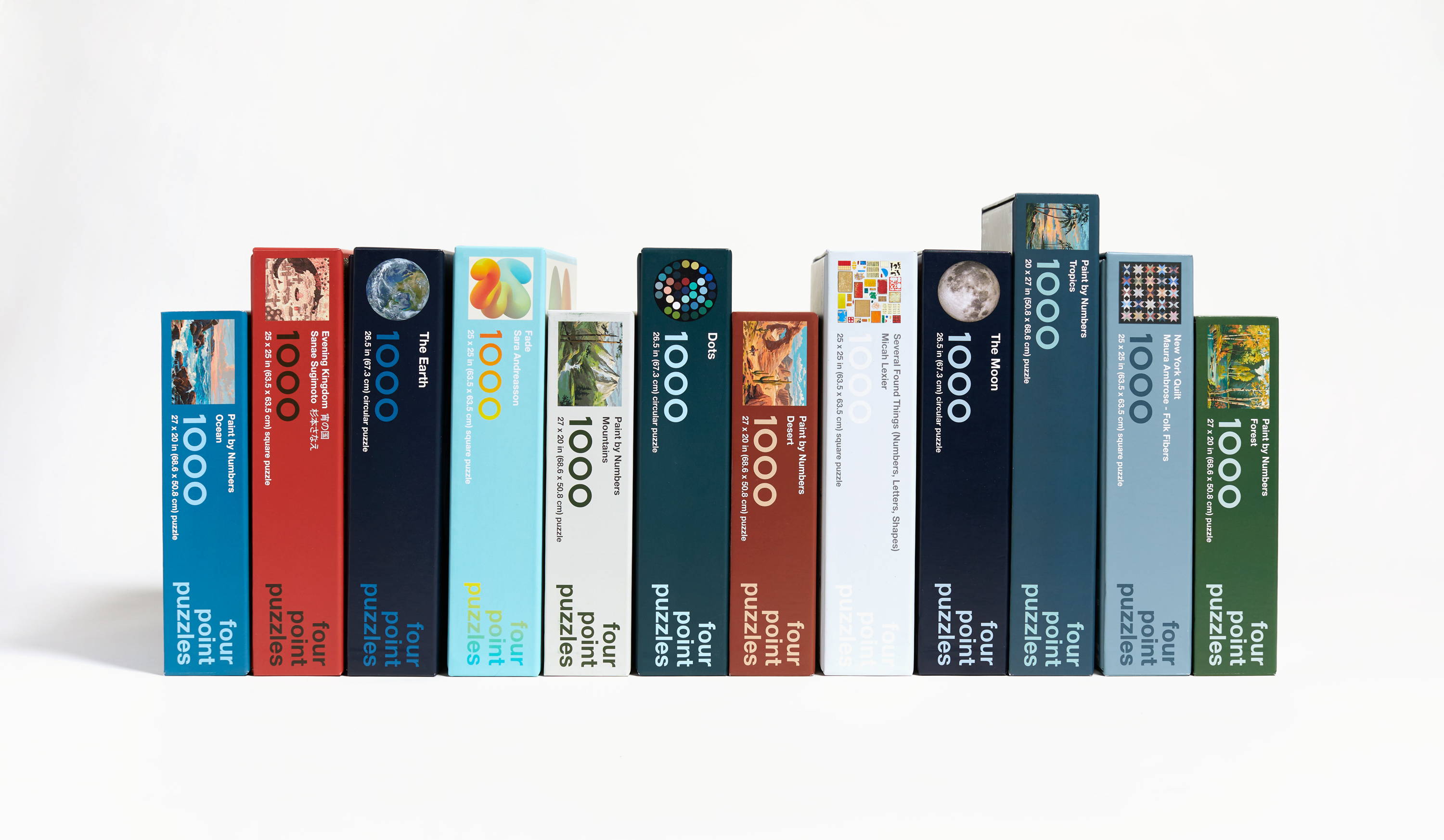 FOUR POINT PUZZLES IS A CANADIAN JIGSAW PUZZLE BRAND WITH A FOCUS ON CONTEMPORARY ART AND DESIGN.
We launched Four Point Puzzles in July of 2019 with just one title, our circular Moon puzzle that celebrated the 50th anniversary of the lunar landing. Since then, we have expanded our line to showcase work by contemporary artists from around the world. From bold, graphic designs to fine art, our puzzles offer a modern take on this common pastime.
Based in Hamilton, Ontario, our small team is led by founder Lindsay Stead, whose background in furniture and textile design and love of contemporary art built the foundation for our brand. Lindsay has been a jigsaw puzzle enthusiast since a young age so launching this brand was the perfect way to combine her passions and her experiences into something she could create and share with others.
One of the most fascinating aspects of putting together a puzzle is that the process allows you to become so familiar with the imagery. When a puzzle depicts a piece of art, you are able to study the work with an incredible level of detail and find new ways of appreciating it. By featuring contemporary art on our puzzles, we aim to make art more accessible and recognizable.
Our design studio is located in beautiful Westdale Village where we are open to the public by chance or appointment. Every detail of our space was designed, much like a gallery, to showcase the puzzles and the artwork that they represent. We have a table in the space where visitors are welcome to sit down and try out our puzzles, as well as an open view of our studio so we can offer a glimpse of the work that goes into bringing a puzzle concept to life.
In addition to our online store and studio, you can find our puzzles at hundreds of incredible art galleries, museums and independent retailers around the world such as the National Gallery of Canada, the Institute of Contemporary Art, the Conran Shop and the MoMA Design Store.
As we look towards the coming months and years, we are excited to grow our offering to include a lot more art, a bit of science and an ongoing commitment to our puzzle community to offer unique puzzles that are always well made and thoughtfully designed.
For information on how to get in touch, please visit our contact page.