ARTIST FEATURE - AMANDA JANE JONES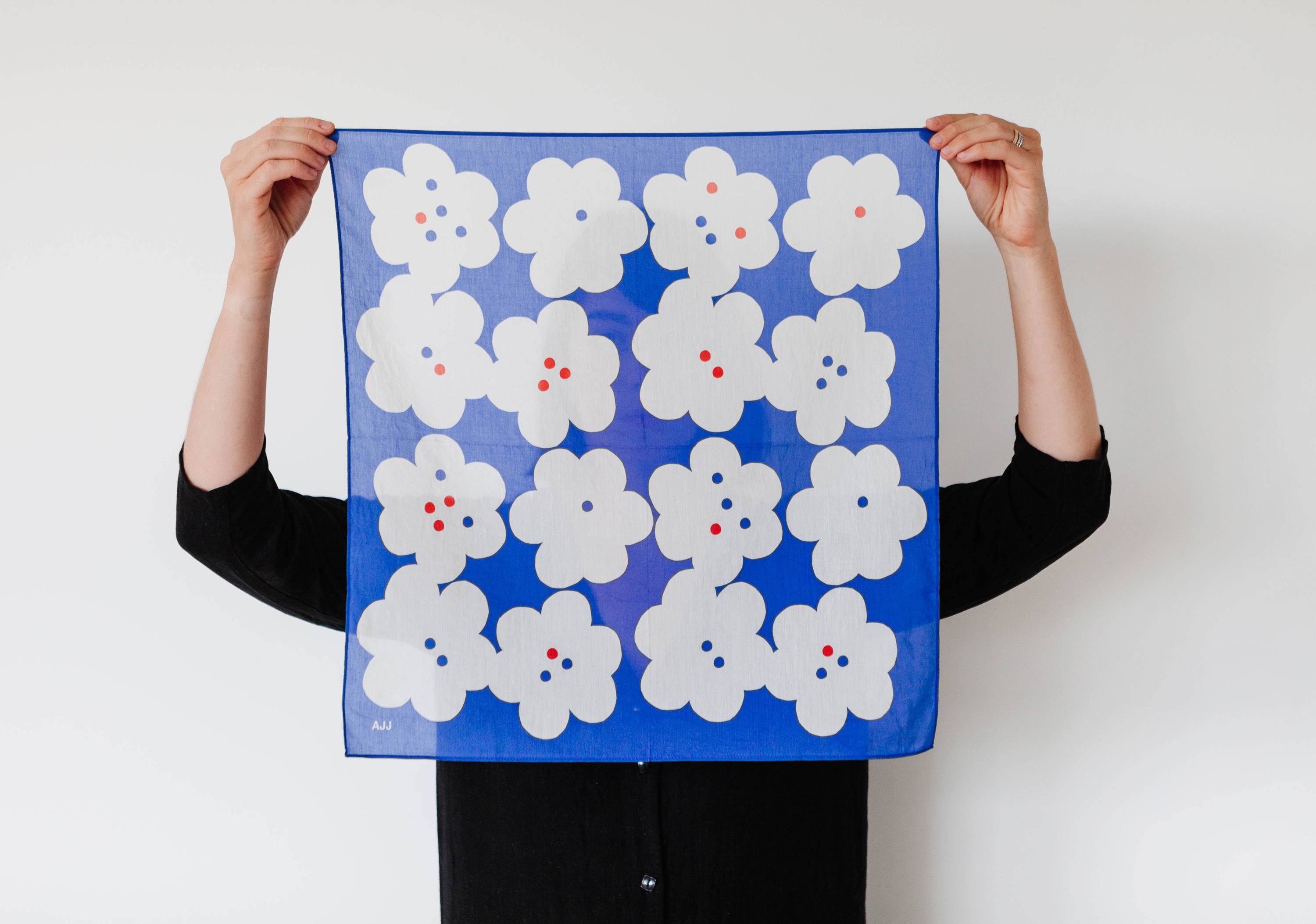 Kerchief design for Klæde by Amanda Jane Jones
AMANDA JANE JONES, THE DESIGNER OF OUR ANNI PUZZLE BALANCES PLAYFULNESS AND ELEGANCE IN HER EVER EVOLVING DESIGN AESTHETIC.
Amanda Jane Jones is a graphic designer, illustrator, and art director based in the Wasatch Mountains of Utah. She is the co-author of three children's books as well as the co-creator and founding designer of the lifestyle publication Kinfolk.
Her work as an illustrator and designer is playful, bold, and graceful, using a language of clean lines and forms, punctuated with punches of colour. Amanda finds inspiration in the modernists of the early to mid-20th century, such as Swiss abstractionist Sophie Taeuber-Arp and Danish designer Finn Juhl, as well as in the work of like-minded contemporary talents, like art quilters Meg Callahan and Season Evans.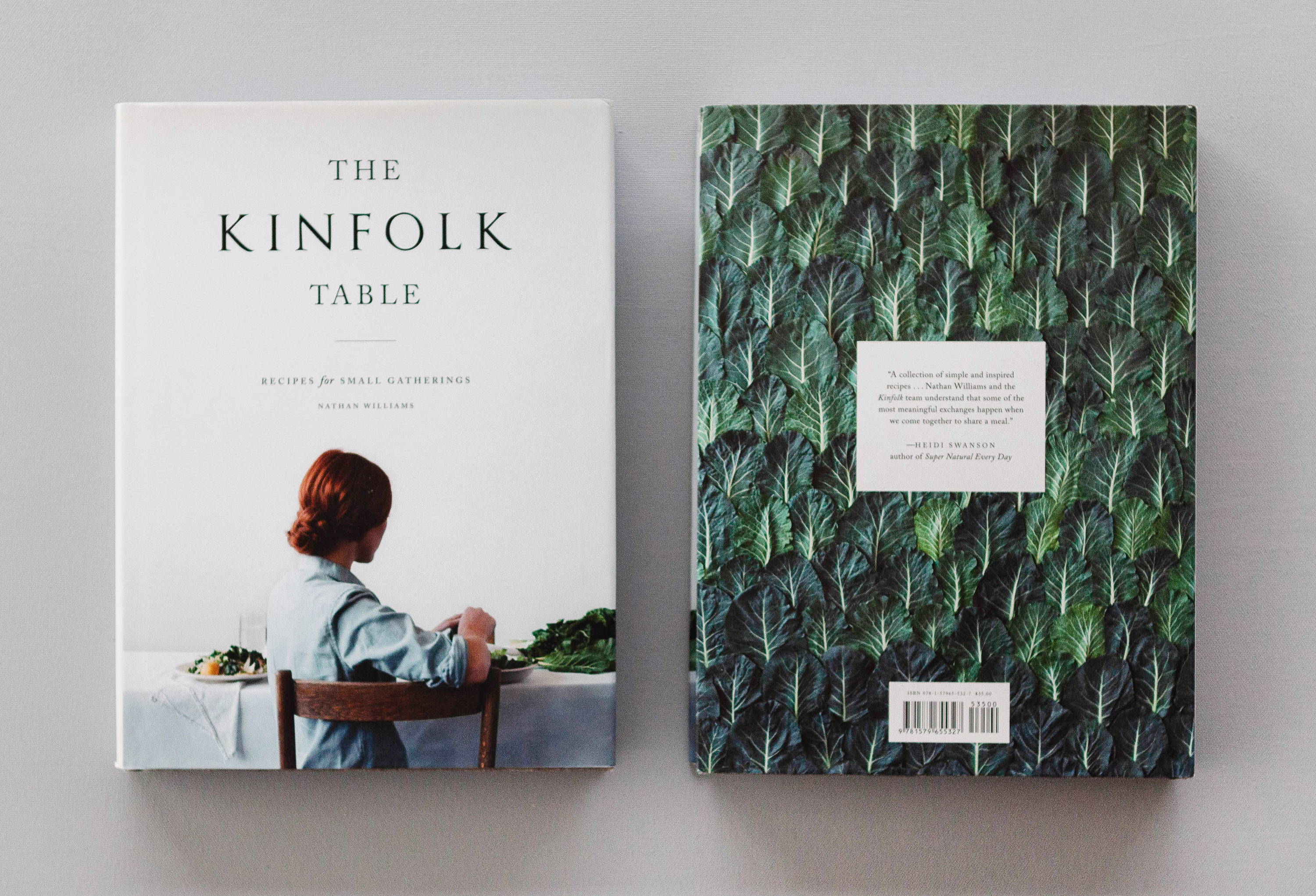 The Kinfolk Table book design for Kinfolk by Amanda Jane Jones
The puzzle that Amanda designed for us (pictured below) titled Anni, is named after the German-American textile artist Anni Albers, whose pioneering work in weaving was important to both the Bauhaus and Black Mountain College schools of art. Like Albers, Amanda creates striking visual designs by layering and interlocking contrasting elements. With a strong graphic sensibility typical of Amanda's work, Anni is a patchwork playfield that uses simple shapes and patterns coloured in a refined palette to create a lively sense of movement.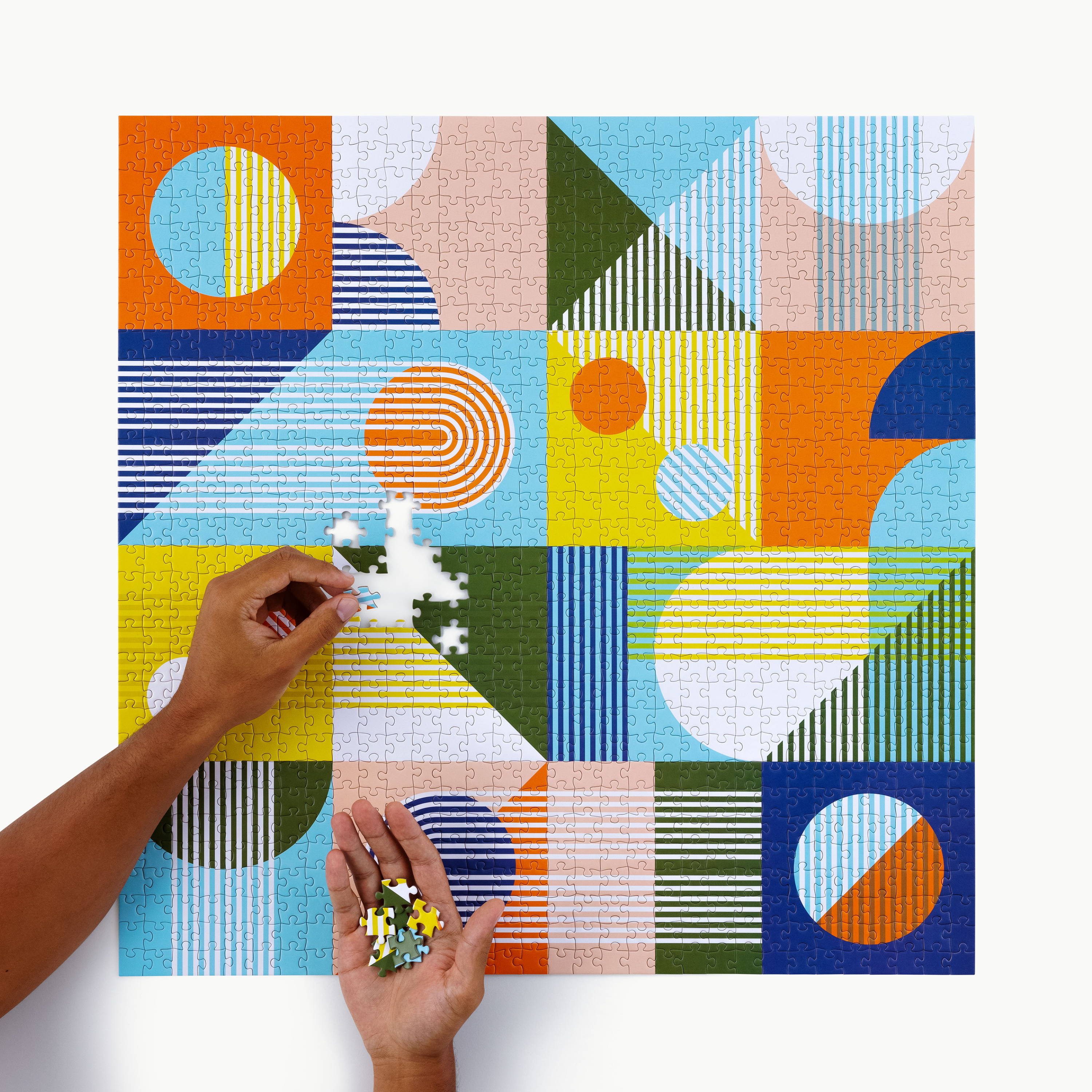 Our Anni puzzle, designed by Amanda Jane Jones is available here.
We recently chatted with Amanda about designing her first puzzle, how her aesthetic has evolved over time and some exciting new projects that she has in the works.
What most interested you in collaborating with Four Point Puzzles to design a puzzle?
I've always loved puzzles and have been a Four Point customer since their first launch, so it felt like a natural collaboration!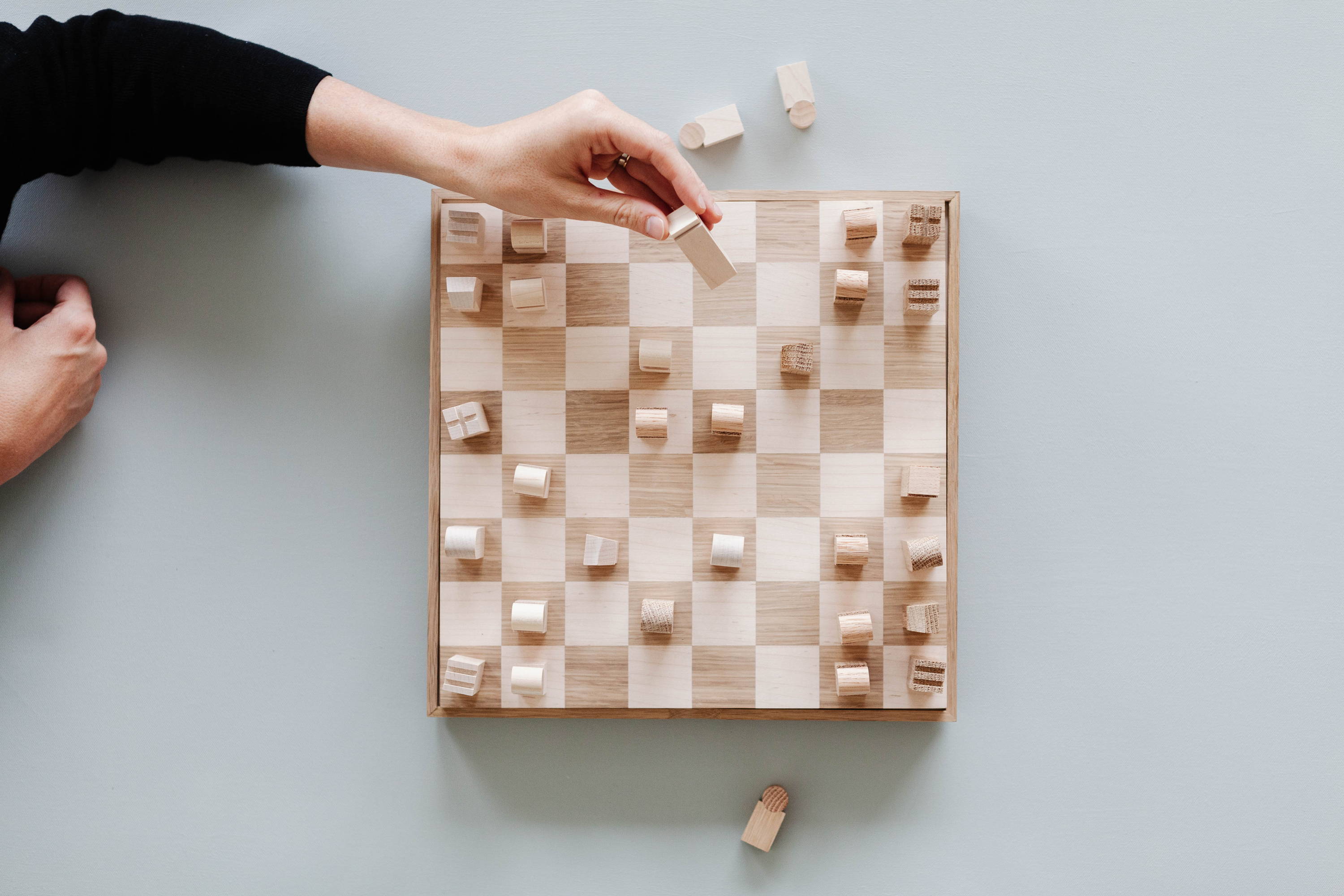 Chess set design for Stockhome Goods by Amanda Jane Jones
Can you tell us a bit about the process of working on your first puzzle design, Anni? Was it different from other print / pattern design projects you've worked on in the past?
It was actually very therapeutic! as a professional designer, there are very few opportunities to create something with a literal blank canvas. I usually have client filter. This was so fun to just sit down and create random shapes and lines and to see it all slowly come together. When I was designing it we were in the middle of a home construction nightmare and working on this puzzle was like an escape for my brain. I loved it and looked forward to it!
You mentioned that you find the work of Sophie Taeuber-Arp and Danish designer Finn Juhl inspiring. What in particular draws you to their work?
I love the graphic and organic nature of their work. The interesting lines and colors.
Your work is equally playful and sophisticated. This seems like a hard balance to reach, but you have done it very successfully. How did you develop your aesthetic? How has it evolved over time?
Thank you! I feel like my work is always evolving. My work from ten years ago looks different in many ways than it does now. I think having kids helped me loosen up and take myself a little less seriously. I think design is so fun, and sometimes in the early days, I would forget this important detail.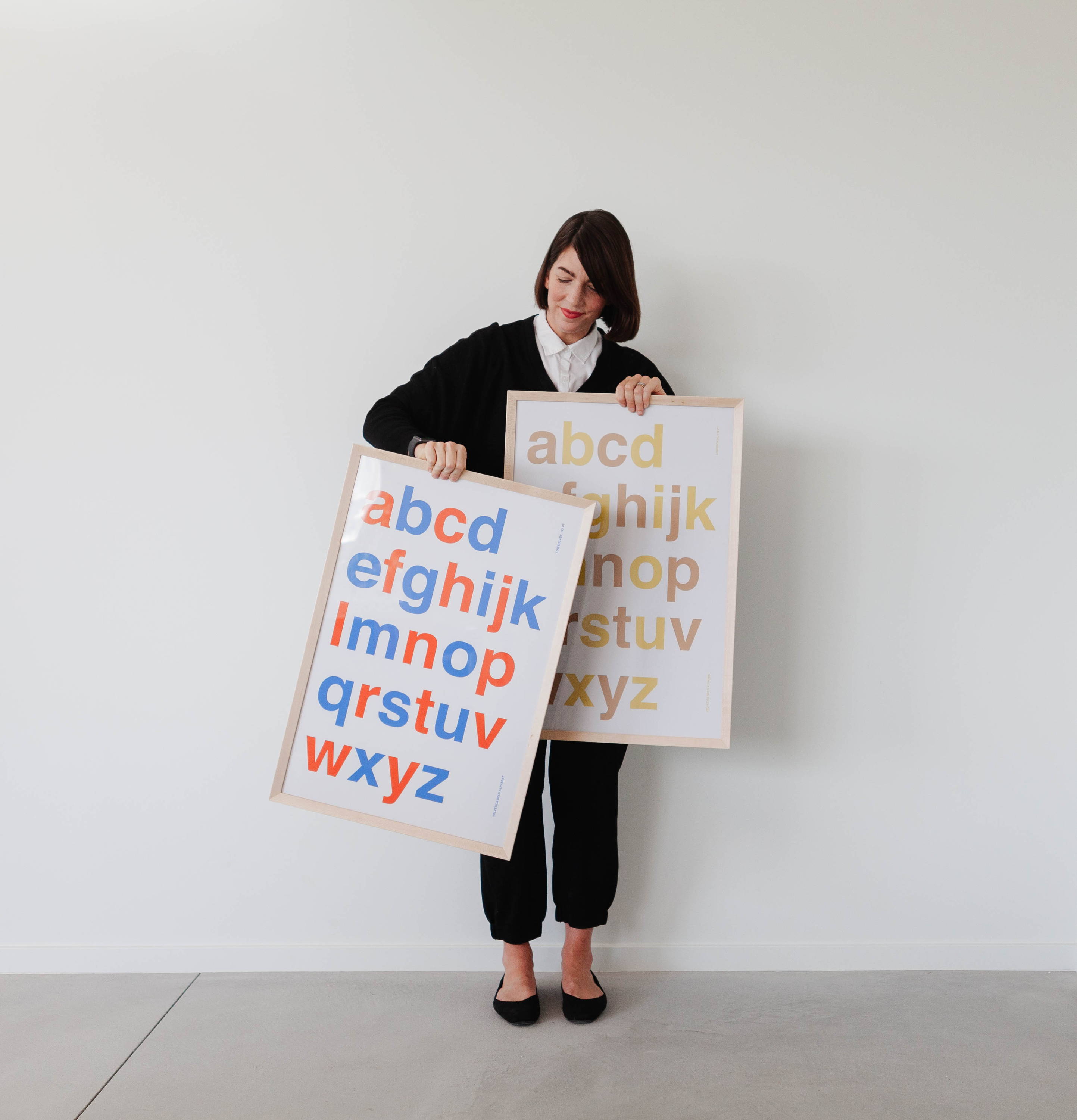 Alphabet print design for Schoolhouse by Amanda Jane Jones
The scope of your work as a graphic designer is very large - from co-authoring children's books, branding, posters and art prints, magazine and book design, fabric design to now puzzle design. What projects are you most drawn to, or do you prefer to have a large variety of work?
I love it all! I'm so lucky to have a job where no two days look the same. I've been amazed at how graphic design can translate across so many mediums. My favorite thing to do is books. I love designing cookbooks, magazines, children's books - I love the task of making the type fit in a cohesive way. It's like an artsy math problem in a way.
Do you have any new products or publications coming up that we can share with our readers?
Yes! I have a new children's book coming out in November, Fuzzy Furry Ouch. And then I've partnered with a company to design some rugs that come out in the new year! I can't wait to share the details on those. They are so fun and quirky, but also modern and sophisticated. I'm thrilled to share.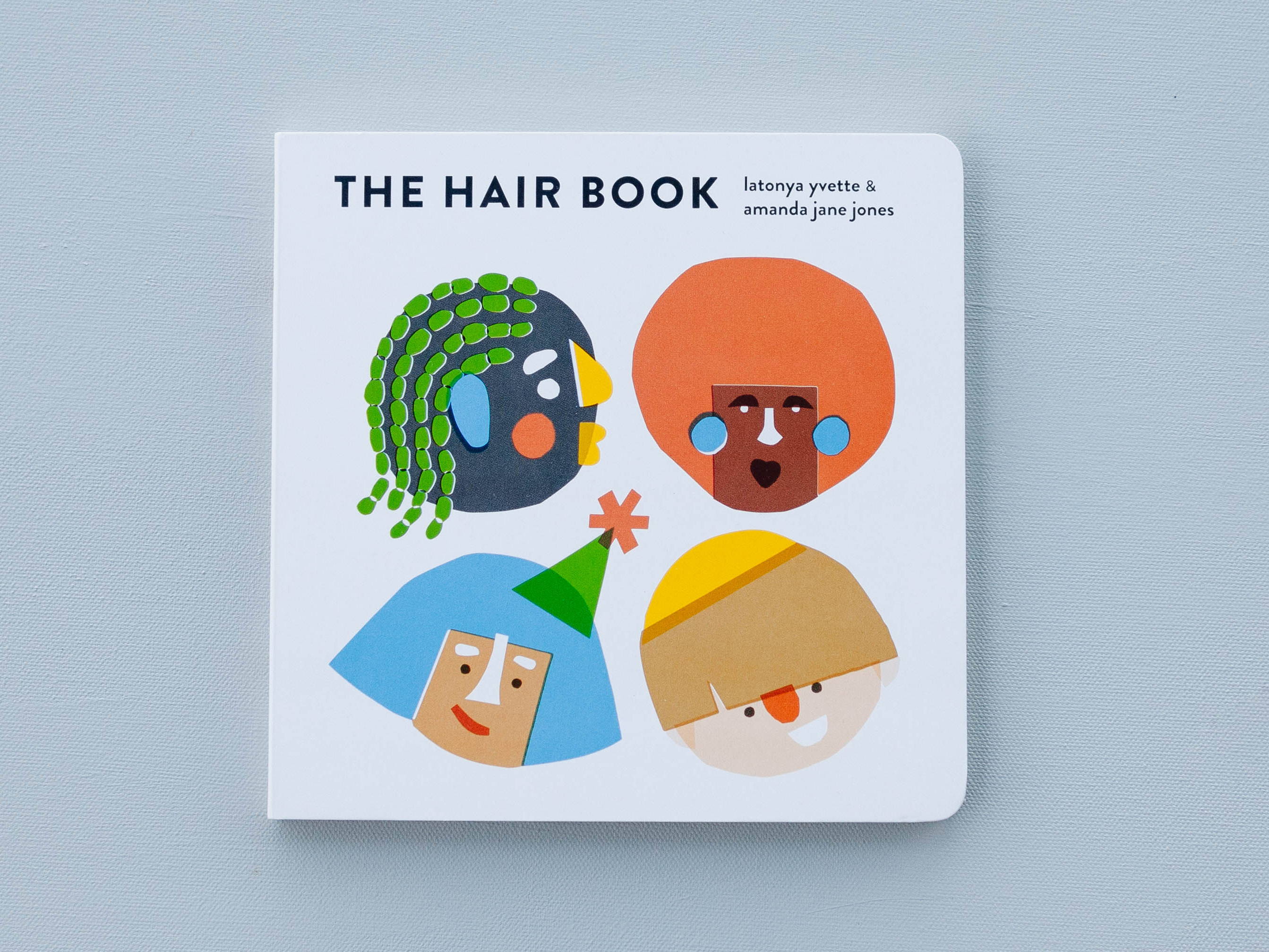 The Hair Book design by Amanda Jane Jones